July 15, 2022
Our third home, on wheels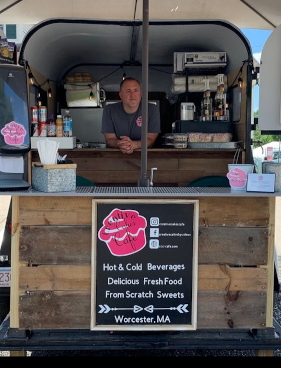 Our mobile cafe is now finished and on the move. Our first stop was the Brimfiled Antique Market. Where will we be next? Stay tuned. One thing's certain. Wherever we are, we'll have lots of tasty sweet and savory things to share with you.
June 10, 2022
Our second home in the park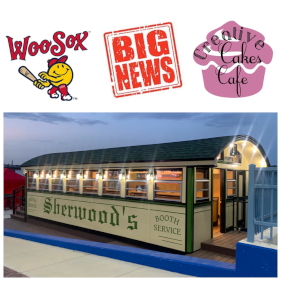 We are so excited to make a homerun of an announcement! We have loved our relationship with the woosox but it is time to take things to the next level so we're MOVING IN! As of Tuesday, 6/14 we will be making Polar Park our home away from home during every home game. We will be serving out of the Sherwood Diner on Summit Street just beyond the outfield (next to Taste of Worcester). Come see us during all games for an iced coffee, iced tea, lemonade, hot coffee, bakery treats and more!
April 12, 2022
Creative Cakes at Polar Park.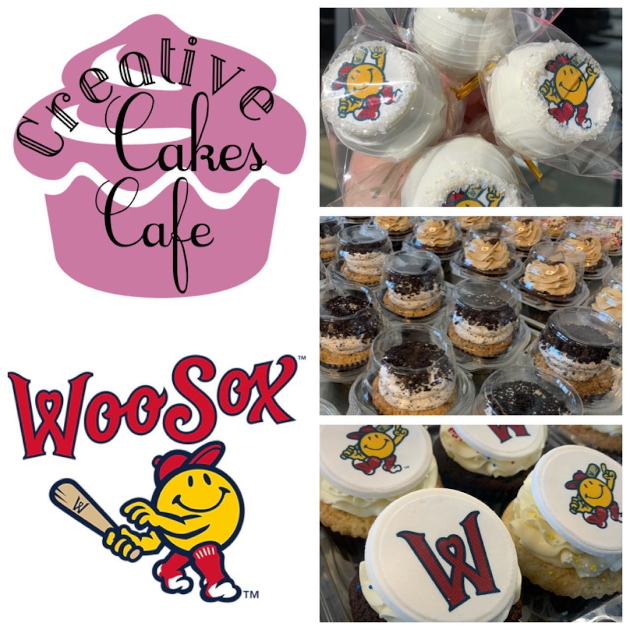 We are proud to announce that if you are headed to a Woosox game this season, you will be able to enjoy our treats in the stadium! The dessert cart in the suites will have a variety of our products and the market on the concourse level will be selling our cupcakes and cakepops. We are so thankful to the Worcester Red Sox for supporting us and other local businesses.
January 20, 2022
Flexibility in Difficult Times.
Read the whole story here.
December 17, 2021
Tonight we celebrated our staff.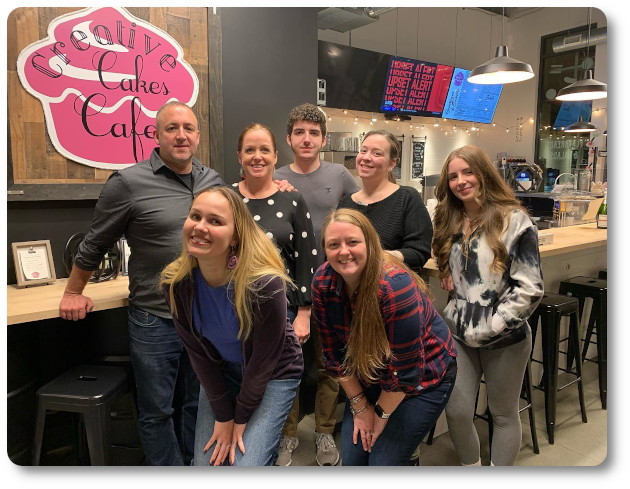 We have a small team but they are mighty when it comes to their personalities, talents, work ethic and commitment to making sure our customers have a great experience each and every time they visit. For these reasons, and more, we are grateful that they are part of the Creative Cakes Cafe Family. From our family to yours, have a "sweet" holiday season!
— at Worcester Public Market.
May28, 2010
Excitement, Optimism!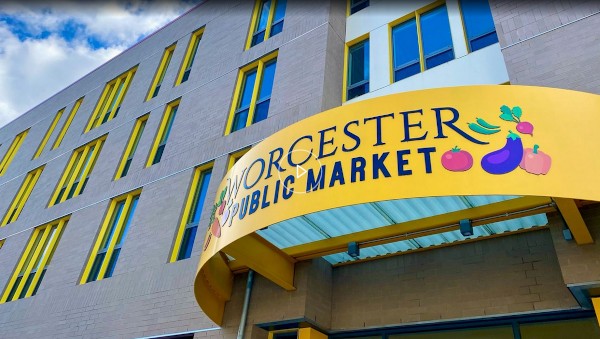 Masks Optional. See the whole story here.
May 21, 2021
Welcome, Sienna!
This beautiful new college grad is one of our newest staff members. Sienna was one of our first "regulars" in the cafe and we couldn't be more proud that she is part of the Creative Cakes Cafe family now. Congratulations, Sienna on your graduation from College of the Holy Cross. We know you'll do amazing things, but don't go leaving us too soon!!!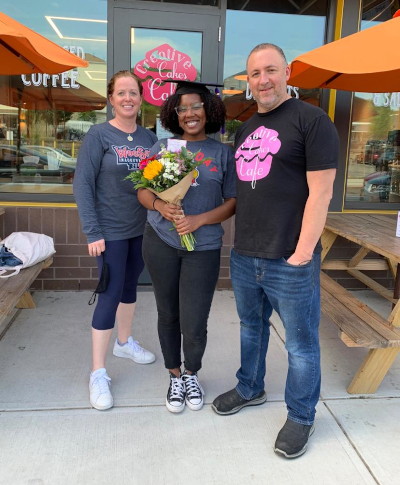 April 24, 2021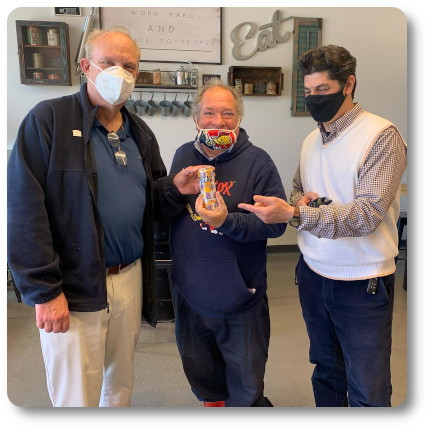 It's been a great day at the cafe! We got a visit from Worcester Mayor Joe Petty, Worcester Red Sox President Dr. Charles Steinberg and Worcester Public Market Executive Director Domenic Mercurio. Here's their salute to our favorite beverage company and ballpark sponsor Polar Beverages. (Is there really ANY other beverage company worth speaking of?)
April 13, 2021
The Massachusetts Pirates and Resinate have Announced a 'First of its Kind' Partnership. The Pirates are part of the Indoor Football League, which allows players to use marijuana without penalties. As part of the ceremony, we were asked to provide some of our signature custom baked goods.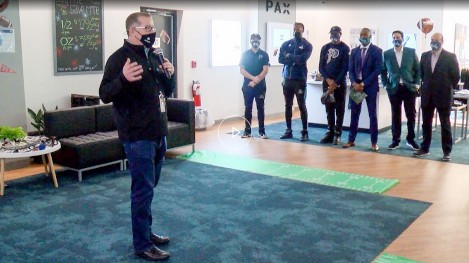 Resinate XFL Parthership
March 31, 2021
We had a nice visit from Spectrum1 News where we got to talk about our progress and our outlook for the future. They also spoke with our colleagues at Worcester Public Market. To watch the video, click below.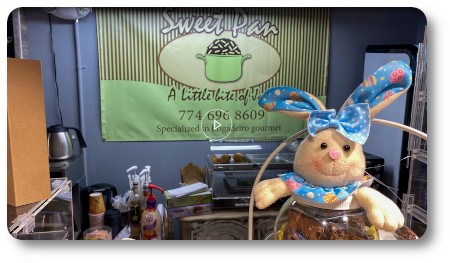 Worcester Public Market News
One year on...
Here we are. Opened, then closed. Then opened. And then, deep breaths taken, we open our cafe in
Worcester Public Market.
Exciting, difficult times that we'll probably talk about when we're older. Our parents told us it would be hard. They were right and they knew from first hand experience. Starting a business in 1980, they struggled (starved, my father said) for a few years. We are thankful to be a part of the small business community and appreciate that we are appreicated by customers and like-minded colleagues. See the news clip from Spectrum1.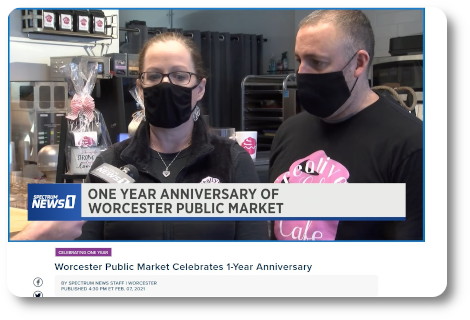 Worcester Public Market in the News
We are happy to be here, proud to be here and will be for a long time, along with our friends and supporters at Worcester Public Market.
Before we were slammed by the coronavirus
, we spent a lot of time with our friends. Helping our brewery friends make their customers even happier with our signature baked goods made us happy as well. It was very satisfying to see how much people liked our cake pops or cupcakes that reflected the seasons, e.g. holday colors and the taste of autumn.
While the lockdown shut us down, we spent some time distributing cake pops and other goodies to first responders and medical personnel.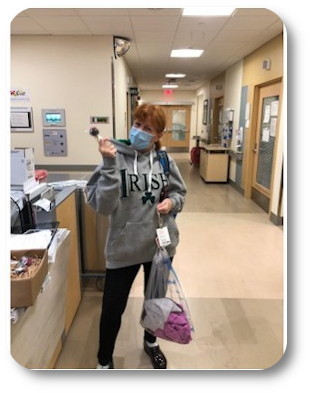 Deecember 1, 2020
After lots of scrambling, mentally, physically and fiscally, we opened the Creative Cakes Cafe at Worcester Public Market.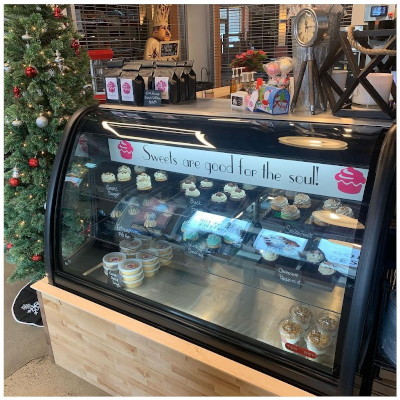 This took a lot of energy and attention to detail. Still does, of course. Making sure that our breakfast, lunch and dinner offerings are the best they can be takes time and effort. Making sure we have the right personnel in place (We do now.) takes a lot of attention to detail.
Now that things are stabilizing, we are hoping to get on the road again.
Our first
new
outside activity included the folks at the new home of the WooSox.
On January 22nd, we served lunch to a lot of hungry people at Polar Park.
One hundred Seventy Box Lunches, each with a signature sandwich and our home made cookies.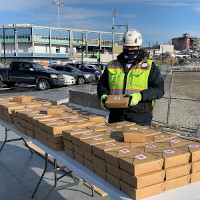 Stay Tuned, there is much more to come.